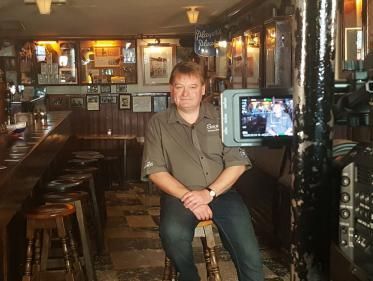 08/12/2020 0 Comments
CNN begin investigation to discover the world's oldest pub
CNN's 'Great Big Story' production team arrive into Sean's bar and interview Timmy as part of their investigation into the World's oldest pub. The video is due to be aired later this year.
Just over a month ago Jacob Harrell, producer of CNN's Great Big Story contacted Sean's bar to say that as part of his investigation into the world's oldest pub, Sean's bar has been identified as one of the oldest. CNN arrived to film the video last week as they continue their quest to discover the world's oldest. When in Sean's bar, Jacob interviewed Timmy where he learned about the old walls made of wattle and wicker, Luain the first Inn-Keeper and viewed the certificate from the Guinness Book of World Records declaring Sean's bar as Ireland's oldest pub dating back to 900 A.D. Jacob also learned to pour the perfect pint of Guinness, tasted our Sean's bar specially blended Irish whiskey and enjoyed the live traditional music while in Sean's.
It was a wonderful experience to work with CNN and there was a great atmosphere in the pub throughout the filming. The programme is due to be aired later in the year. We'll be sure to keep you informed when it is broadcast! 
Feed