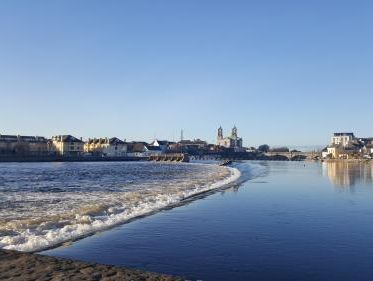 08/12/2020 0 Comments
How Athlone got its name
With a history dating back over 1100 years, Athlone strategically has always been a very important location on the River Shannon. Situated in the very heart of Ireland with Lough Ree to the north and the waters impassible to the south until Clonmacnoise, the Ford at Athlone was the only crossing point for miles. So where did the name Athlone originate from?
Athlone, translated into Irish is 'Atha Luain', which means the town of Luain or the ford of Luain. Luain was a man who used to guide people across the treacherous waters of the River Shannon long before the first bridges were built. It was at this crossing point where he established an Inn in 900 AD, providing refreshments and a resting place for travelers on their journey. This strategic and important crossing point, previously called the 'Ancient Ford of Antiquity' was later named after Luain. The use of the Ford at Athlone can be dated right back to the Bronze age as evidenced by the volume of Bronze age finds from the river bed and the crossing point is also referenced in the 'Annals of Clonmacnoise' which again emphasizes its great importance. A settlement later built up around Luain's Inn and in the 12th century the first wooden castle was built by King Turlough O'Connor to guard this important settlement. 
Today Sean's bar; formally known as Luain's inn is officially Ireland's oldest pub and its location at this crossing point has been dated 900 Ad by both the National Museum and the Guinness Book of World Records. The Ford of Luain or Athlone, the town built around a pub, would be regarded as the capital of the Midlands and the gateway to the west.
Feed