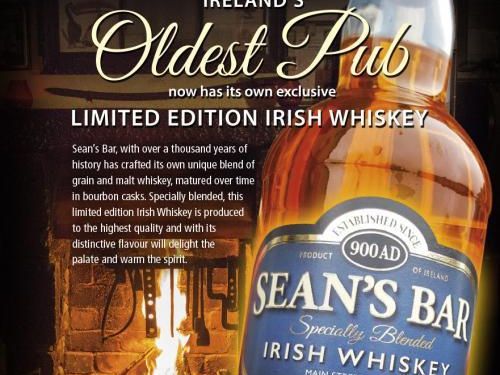 08/12/2020 0 Comments
Sean's bar launch new whiskey
With over a thousand years of history we at Sean's bar have decided it was time we launched our own whiskey range. Our first is a specially blended whiskey, matured in bourbon casks and is now available to buy by the shot or by the bottle at the bar.
This whiskey is dedicated to 'Luain', the very first Inn Keeper at Sean's bar. Luain guided people across the treacherous waters of the ancient ford and this crossing point and pub date back to 900 A.D. Later a settlement was established around this strategic crossing point where King Turlough O'Connor built the first wooden castle in 1129. Today the town of Athlone, or Atha Luain in Irish, takes its name from Luain himself and the pub the town was built around.
The whiskey is a blend of grain and malt, has a caramalised nose feel and initally the taste is rather soft and a little sweet. The aroma is delicate with some floral hints.  Very smooth, apprachable & easy however. What gives it that touch which makes it that little bit better than the rest is a warming speceness on the finish
The whiskey is available to buy in Sean's by the bottle with a lovely gift bag for €39.50 or perhaps enjoy a measure by the fireside for €4.50.. 
So raise your glasses to Luain.. Sláinte
Feed