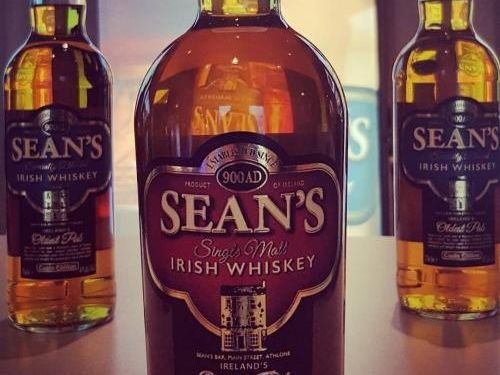 08/12/2020 0 Comments
Sean's bar launch their Single Malt Clonmacnoise
Sean's Bar was delighted to launch its second whiskey expression "Clonmacnoise" at the WSWA convention at the Ritz Carlton in Orlando Florida on April 2nd 2019.
This convention welcomed wholesalers, importers,distributors and whiskey experts from all over the world and the occasion provided the perfect platform to launch the Single Malt.
Verified by the Irish Whiskey Museum and documented by various whiskey historians it is known that the first recorded metion of whiskey in the world appears in the Annals of Clonmacnoise when in 1405 a local chieftan died after taking a 'surfeit of Aqua Vitae" . Sean's Single Malt Clonmacoise is a tribute to the monks who discovered the art of distillation on their travels and later produced Uisce Beatha or Aqua Vitae!
The colour of the whiskey is a dark amber suggestive of charred casks. On the nose the whiskey is sweetly rich, warm and inviting. Easy and assessable, vanilla and caramel  with slight burnt note in the background.
Taste, starts off smooth and soft, light and easy yet grows into a lovely prickly spiciness - dry spices. Finish, slowly dries out leaving a pleasing tingling with those dry peppery spices. 
Why not call in and try a drop.. we promise it won't kill you !!
Feed