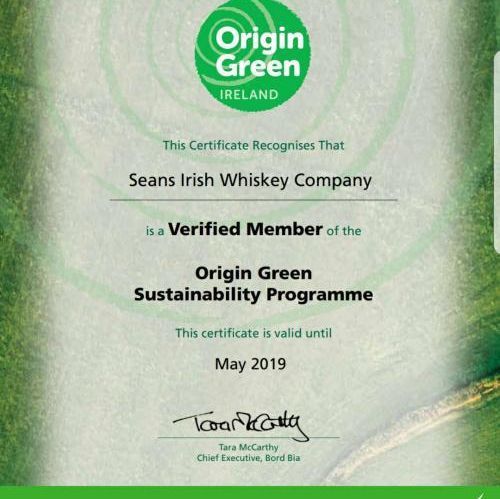 08/12/2020 0 Comments
Sean's Irish Whiskey awarded Origin Green Certificate
Sean's Irish Whiskey Company is now a verified member of Origin Green Sustainability Programme having received its certificate from Bord Bia.
Here at Sean's we fully recognise our responsibility to the environment and to society. It is important for us that responsible production of our product as well as responsible consumption are at the heart of our business. We believe that if our whiskey is to succeed in an ever increasing competitive marketplace we must must develop a sustainability programme and work with Bord Bia in their Origin Green initiative.
 
Origin Green is Ireland's food and drink sustainability programme, uniting government, the private sector and food producers through Bord Bia, the Irish Food Board. Origin Green enables Ireland's food industry to set and achieve measurable sustainability targets, establishing a baseline for continuous improvement. Origin Green members include farmers, food & beverage manufactures and retailers & foodservice operators.
The ever-growing numbers of Origin Green members are fully committed to developing more stringent ways of working which will see its aim of 100% of Ireland's food and drink exports on the road to sustainability.
Feed